A kitchen is more than just a stunning backsplash and gorgeous cabinets. Integrate these thoughtful tips when planning your kitchen remodel for a space that is functional and easy to work and live in.
Eliminate Wasted Steps
Think about how and where you use kitchen items. Store breakfast foods and bowls near the breakfast table. Keep wraps and plastic containers in one handy spot near a work surface for wrapping leftovers. Locate dishware and flatware near the dishwasher to ease the process of unloading.
Design Wide Walkways
Paths throughout a kitchen should be at least 36 inches wide. Paths within the cooking zone should be 42 inches wide for a one-cook kitchen and 48 inches wide for a two-cook configuration. When planning, adjust kitchen islands and peninsulas accordingly.
Find the Right Height for the Microwave
The best height and location for a microwave oven depends on the chef and the degree of kid-friendliness desired in the kitchen. For adults, 15 inches above countertop level is a good microwave height. For kids, a below-countertop setup might be safer and more suitable.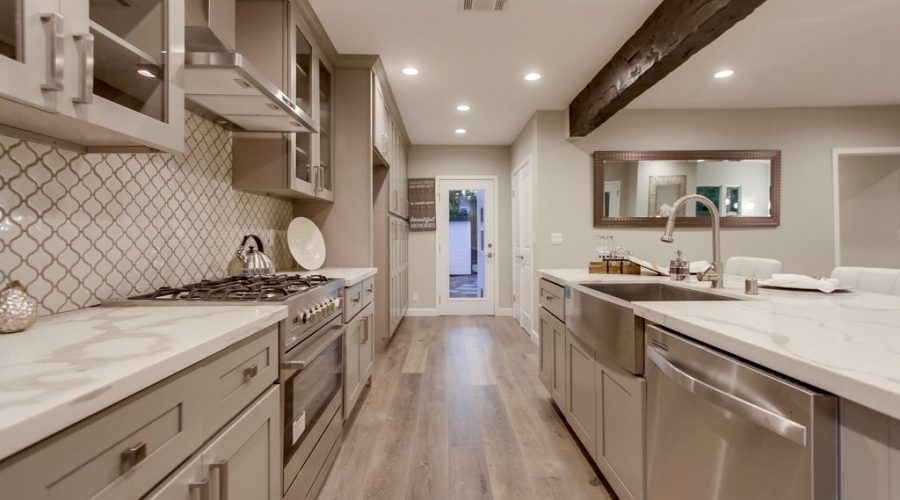 Stay Clear of Corners
To make cabinet and appliance doors fully functional, plan space for the door's clearance and swing direction in your kitchen design. Keep appliances away from corners, and make sure doors won't bang into each other if open at the same time.
Consider the Countertops
Those who cook frequently require more counter space — ideally between the range and sink — than those who cook infrequently or who prepare simple meals. Incorporating two countertop heights makes baking easy and helps kids who are involved in meal preparation.
For more tips and tricks, come visit our Kitchen Cabinets Showroom in San Diego. Our Kitchen Experts can help you to create your dream kitchen. Find your dream kitchen cabinets today!